Model's height in the photo: 184 cm
Model's size in the photo: L
Baby's age in the photo: 14 months
Baby's clothes size in the photo: 80/86
Size of the carrier in the photo: baby
---
LennyGo - ergonomic baby carrier

Available in 2 sizes
Baby: Age: 4-18 mos.
Clothing size: 74-86
Toddler:Age: 14-36 mos.
Clothing size: 86-104
Babywearing positions
Front "tummy to tummy", back
Put it on & GO!
Simple design, minimum of buckles and fasteners. If you are overwhelmed by too many adjustment possibilities - choose LennyGo - it's a simple, comfortable and proven solution
Easy fit
Soft adjustable shoulder straps and hip belt for your comfort, quick and easy for you to adjust
Hood
Deep and non-detachable. It will protect the baby's head if necessary and certainly will not get lost ;)
Safety
The certificate of compliance with safety norms PD CEN/TR 16512:2015 and ASTM F2236 - 16a
Acknowledged as a "hip healthy" product by the International Hip Dysplasia Institute.

This baby carrier is also available with a breathable mesh panel -> CLICK

Actual colors and pattern placement may vary from pictures

---
This special weave requires more love 😁 Jacquard fabrics are dozens of different weaves - each of which creates a completely different spatial construction from the yarn 😁 This allows Lenny to weave fabrics that are fluffy, cushy, soft and very supportive at the same time 🙂 Such unique fabrics, however, require exceptional care - their three-dimensional weaves sometimes like to snag. But this very feature that makes the fabric pulls is also responsible for the amazing properties of jacquard fabrics that you love so much ❤️
---
Does your wrap come from a true weaving studio, or from a manufacturer that just sources random fabric ? LennyLamb is a true weaving studio.
---
Straps adjustment range: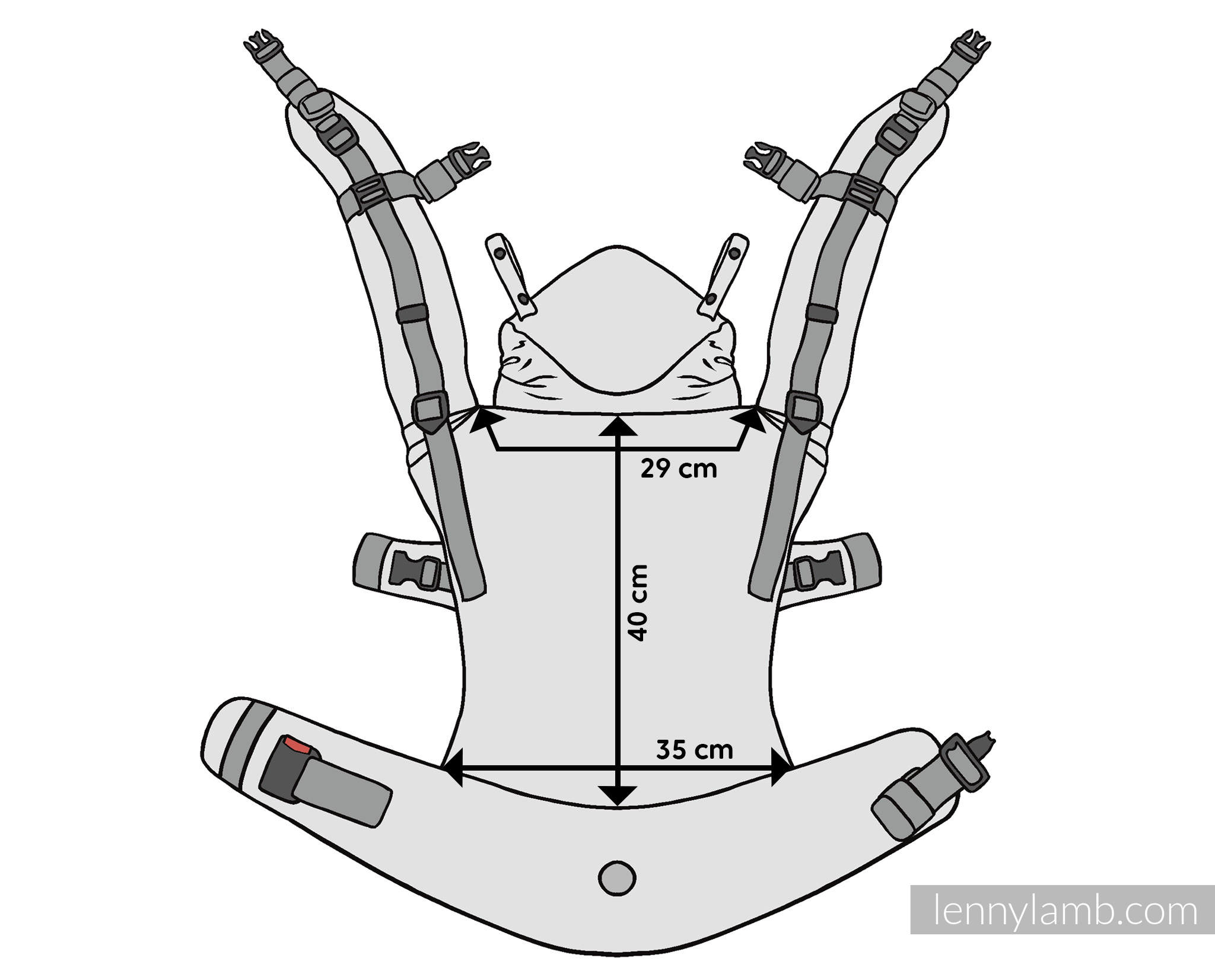 Permissible measurement error +-3cm
---